Mission Statement
As the only barefoot massage focused multi-therapist clinic, internship and training center in the nation, Heeling Sole aims to be the source for high quality Barefoot Massage Therapy, providing unique and "different" bodywork services and educational opportunities to those looking to 'raise the bar' on their massage experience. We feel that the innate therapeutic powers of your own body are awakened and enhanced through the profound benefits that barefoot massage and yoga offers – both for you and us! We pride ourselves on excellent training in the art of massage and precision of our technique. All Massage Therapists are trained and mentored to continually enhance and deepen their focus in Ashiatsu and Ashi-Thai. Our Yoga Instructors are fun, insightful and amazing professionals. Our focus is to replenish our community with a fresh take on an ancient form of healing, helping people to find their moment of peace so that they can begin to find balance in their lives.
---
Meet the "Sasquatch Staff" of Heeling Sole!
---
Massage Therapists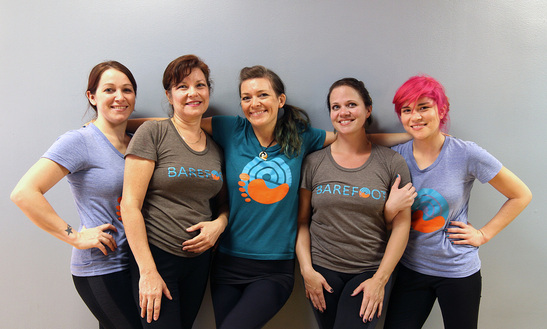 JENI SPRING, LMT, LMP, MTI
Owner, Ashiatsu Instructor, Certified Ashiatsu/Ashi-Thai Massage Therapist, Yoga Instructor

To help continue to work with her loyal and long time client base, to effectively manage the office, and to allow time to focus on her students,

Jeni is not actively accepting new clients

. To receive a massage from Jeni you must either be an existing client of hers, or first receive a session from the other expertly trained massage therapists here at Heeling Sole.
---