Heeling Sole aims to be the source for high quality Barefoot Massage Therapy, providing unique and "different" bodywork services and educational opportunities to those looking to 'raise the bar' on their massage experience. We feel that the innate therapeutic powers of your own body are awakened and enhanced through the profound benefits that Ashiatsu barefoot massage offers – both for the provider and client. Our focus is to replenish our community with a fresh take on an ancient form of healing, helping people to find their moment of peace so that they can begin to find balance in their lives.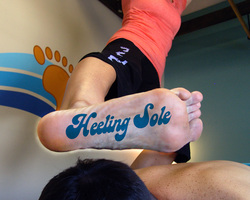 Click the pic to meet the Heeling Sole Team
Established in 2003 near Seattle, in San Antonio since 2007.
New Client Health Intake Form
Download our new client paperwork and complete it with more thought at your own convenience (rather than rushing right before your massage!)

The time saved for your massage appointments are reserved "solely" for you. Often times, we have upwards of 10 people hoping to book the same massage appointment time – but once it's yours it's yours, and we have to turn the rest away. If for some reason you do not arrive to receive your scheduled massage, then we are not only missing out on your business, but also the business of all those who wanted a massage in the time you picked.
Our Cancellation Policy has been put in place out of consideration to honor and value our busy clients and our professional massage therapists' time.
To give others a chance to receive the awesome benefits of a barefoot massage in your absence, we require 24 hours notice for any cancellations, so that we have a better chance to refill the appointment with another soon-to-be "heeled" client. A quick call to 210-560-1992 is preferred for notice, leave a voicemail if we don't answer. Text messages are not acceptable forms of contact to our office phone number, or to our staff's cell phones. Please let us know when you'd like to reschedule, we are happy to get you on the massage table when it fits your schedule better.
For cancelled appointments within 24 hours of their scheduled start time, you may be charged 50% of the regular price if we cannot fill the spot in your absence, for missed appointments without notice, the full price of the session will be charged to your account.
Shortening your appointment on the same day does count as a late cancellation. For example, your massage is reserved for 90 minutes, and when you arrive at the office you realize that you need to shorten it to 60 minutes to leave early, then 50% of that difference will be charged.
A credit card is always required to reserve an appointment with Heeling Sole in order to hold your appointment and enforce our cancellation policy. We do not charge this card except for when our Cancellation Policy needs to be applied. Your information is not shared, it is secure within our private system. If your appointment is held with a gift card, the same charges explained above will be applied to the balance of the card.
Cancellation Policies such as this are standard practice within the massage and spa industry, and we hope that you value our time as much as we do yours. We really do appreciate your business. We aim to be effective and fair to all of our exceptional clients. Of course we are all human and are understanding people, so acceptations to the rules can be made on a case by case basis at our managements discretion.

If it is your first appointment with us, there will be a little bit of paperwork for you to complete. A Daily Health Report form will be filled out at subsequent visits as a way of tracking your progress. Please arrive 15-20 minutes early for your first appointment, and 5 minutes early on following visits, to allow stress-free check-in, and time to work on your health intake form.
Your appointment is reserved for you, and only you. Arriving late will possibly interfere with your treatment time. If we can accommodate a few minutes here and there, we will do the best we can to give you the full length of your scheduled massage. However, so that the next guest will not be delayed, and so that our massage therapists can have time between sessions to eat, rest, and recenter, we cannot cut into someone elses time by extending yours.

Your first visit we'll have you complete a health intake form. Recurring visits entail a breif check up for paperwork and progress sake. After a thorough health intake with your massage therapist, we will be able to best suit the needs of your session for the day. Knowing a history of your aches, pains, diagnosed conditions, past surgeries, trauma, medications, etc. gives us a safe point of reference to start from. Please read this page on our website regarding if Barefoot Massage is right for you at this time.
You must be at least 18 years of age, and weigh over 130 pounds. Texas state massage law dictates that minors may receive massage therapy with the guardians consent and they also state that the parent/guardian be in the same room during the session, however, due to the fact that our massage therapists are at times 2-4 feet off the ground working hard to balance and focus, we do not allow a second person in the massage room as it can be a distraction and a safety concern to all parties involved in the massage.
We'll leave the massage room to give you time to undress and settle in beneath the sheets on our deluxe w-i-d-e, padded and warm massage table. If you are receiving an Ashiatsu massage, it is imperative that you undress completely. Yes, I said it, there's not much "undressing to your comfort level" here at Heeling Sole. We need to work directly with the tissue in your booty, legs and your feet, so please, remove your undies and socks as well as all the usual clothing, and we PROMISE that we will keep you covered where it counts with a sheet. Professional draping is required by the state of Texas except with written permission – and we at Heeling Sole never work without draping, even if you want us to. This is a professional massage therapy session, and exposed nudity is NOT our thing. We haven't ever, and don't need to see that side of you! Underwear is almost an insult to us. For some reason we have no issues pushing through your lovely skin to engage the muscles, but we do get weirded out when our toes get tangled in underwear or when we simply have to step on your skivvies. It becomes a safety issue, and honestly does remove some beneficial work from the massage if we have to skip an area or work through fabric, rather than glide and slide through the skin. HOWEVER if you are receiving just an Ashi-Thai stretching session, not blended with Ashiatsu, please wear flexible clothing – like what you would wear to work out in. We don't mind stepping on normal clothes 😉
While you undress, we'll clean, sanitize and warm our feet, and start the session as soon as we return to the room.
You are in control of your massage, and we need you to give instant feedback on the pressure level – we are looking for no deeper than the "hurts so good level", and your comfort is always most important to us. We want almost a play-by-play from the horses mouth as we get to know your muscles and your bodies response to our work. Let us know if it needs to be lighter, deeper, a hair to the left, etc, and we'll adjust right away! Your feedback does NOT hurt our feelings, it's encouragement for us to give you the best massage possible that day.
If it helps you to relax by having a little conversation outside of the feedback aspect of our communication, go ahead and talk about your great second cousins crazy encounter with aliens, or your friends amazing food, but don't feel obligated – we love to hear your stories, or the sounds of your snooze. On the flipside, if your body and mind needs silence, we are ninja's, and we don't mind working in stealth mode. (Just don't forget to speak up when pressure needs adjustments!)
Your job during the massage is to focus on your breathing, be heavy, and physically melt into the table. If we try to move your limbs, don't help. It's actually better if you are dead weight. So think ~heavy~, be a bag of bones on our table, and we'll position, stretch or place your limbs exactly where is best for the moment, or if we need you to help, we'll definitely let you know!
Sessions will incorporate as much "massage time" as possible, however, your session may require 5 minutes of pre-session interviewing, post-session follow-up and/or self-care suggestions to better enhance your massage experience. We'll take the massage right up to the last minute possible, and will let you know when the session is over, so don't worry about the time.
You can choose to end the massage at anytime during the session if it's not your thing – but we bet you'll be more likely to want to lengthen the session!
To help continue to work with her loyal and long time client base, to effectively manage the office, and to allow time to focus on her students, Jeni is not actively accepting new clients. To receive a massage from Jeni you must either be an existing client of hers, or first receive a session from the other expertly trained massage therapists here at Heeling Sole.
Jeni's rates are $10/hour higher than the listed prices, as listed here:
1/2 hour: $45
1 hour: $90
1.5 hour: $135
2 hour: $180
Did you see that loophole? That's the good news! If you are new to Heeling Sole, you definitely have to see someone other than Jeni on the Heeling Sole staff for your first visit. (Don't worry, Jeni wouldn't hire just anyone, and they wouldn't be working here if Jeni didn't believe in their capabilities.) Once you've had at least an hour long session with another Heeling Sole massage therapist, you are free to schedule with Jeni – but expect to wait, she is typically booked out 6-8 weeks in advance!
All the the massage therapists on staff have been trained in Ashiatsu, Ashi-Thai and other barefoot massage techniques by Jeni, and are mentored as long as they work at Heeling Sole in the finer tricks and talents for treating specific tissue issues. Although every massage therapists adds a different flavor to their feel of the technique, and every therapists has their own unique strengths, Jeni works hard to educate and train her staff so that they are equipped to give you an equivalent session to what she offers. We encourage you to try a massage with each of our Heeling Sole "Sasquatch" staff to feel the benefits of each style for yourself – you'll find something amazing out of each pair of our feet!
*Note: If we see an appointment on Jeni's schedule for a new client, that appointment will be moved to another therapist if your exact appointment time is available, or cancelled, with notice to you.

If you are planning to receive an Ashi-Thai (passive yoga/stretching) session, please wear or bring comfortable, flexible attire so that we can stretch you in all directions. We do have scrubs on hand for you to borrow if needed!
Ashiatsu (deep tissue) sessions are best received when the client undresses completely. You may undress to your comfort level, but remember, less is more, so that we can fluidly glide from head to toe without getting caught on fabric, and to avoid staining your clothes with our oil and creme. You will always be safely and warmly covered by a sheet with only the area being worked uncovered – never inappropriately exposed.

Offers cannot be combined – the only exception is the Birthday Discount for existing clients which will be emailed to you automatically. (You have to be a client 90 days before your birthday for eligibility.)
Gift Certificates / Gift Cards purchased for flat dollar amounts do not expire, but the balance does automatically depreciate by 5% on the day after its year anniversary if the gift card maintains an unused balance. We recommend that you use your gift card ASAP!
Gift Cards purchased for specific services DO expire within a year – we request that you redeem your services within 6 months of the purchase date.
We are not responsible for lost/stolen gift cards. Lost gift cards cannot always be tracked without the gift card number from the back of the card, your purchase receipt, or the email confirmation. Please do not lose this information so that you do not lose access to the funds on the gift card!
Yoga Packages expire 3 months from purchase date, and cannot be shared with another person. The system will send reminder messages alerting clients when they are nearing expiration.
Massage Contracts expire 4 months from the initial start date of each contract. Your account will be autodrafted for the agreed upon 1-2 discounted massages a month for 3 months in a row. These sessions cannot be shared with another person. The system will send reminder messages alerting clients when they are nearing expiration. Any unused services are forfeit ~unless~ you renew your contract with no lapse. You can set your contract to "auto-renew" to avoid any break in your discounted series of visits to Heeling Sole.
Massage Packages are only offered on the Solstices and Equinoxes, or during special promotional events when necessary. These pre-paid 9 packs of massages expire 6 months from purchase date, can be shared with others or split onto gift cards, but cannot be combined with any other offer. Any unused sessions after 6 months are forfeit.

All sales (gift certificates, series packages, prepaid massage, classes, and/or any services offered) are final and non-refundable. However, they are transferrable and may be gifted to another person for any reason.
The Massage Therapists at Heeling Sole are licensed and highly trained professionals in the field of therapeutic massage, and are fully certified in Ashiatsu and Ashi-Thai. We hold ourselves to a high level of ethical and professional standards inline with the American Massage Therapy Association and the Associated Massage & Bodywork Professionals organizations, as well as the National Certification Board of Therapeutic Massage and Bodywork. We adhere to both Texas and Washington State massage laws. Draping is always required, confidentiality is always maintained, and therapeutic, relaxing massages are provided by amazing licensed massage therapists.
Although it rarely happens, this next part needs to be said to protect our therapists from harm: we have a strict policy regarding the mutual professionalism and level of respect maintained here at Heeling Sole. Any inappropriate requests, behaviors or actions during the massage will result in a termination of the session, and your account will be charged the full amount of the session.
Heeling Sole reserves the right to refuse service to anyone, be it for reasons of personal safety, issues of health or hygene, or for requests that are outside of a Massage Therapists scope of practice.

Gratuity is left at your discretion and is much appreciated in cash
Ready to get a massage?