Important info for future heelers!
---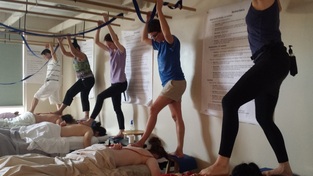 To sign up for any class, just simply visit the corresponding workshop page - found listed under the "Worshops" tab above. You'll see a list of dates that particular class is offered, if you click on that date, it will begin your registration process. You can also start this process from our
Class Schedule page
, and just click on the "Sign Up" button next to the class you are interested in.
Barefoot Basics and Ashi-Thai are your two beginner courses - so you can start with either. The Anterior/Sidelying and Advanced Ashiatsu courses both have prerequisites required, that cannot be skipped. If you are trying to sign up for both Barefoot Basics and Anterior/Sidelying, please first only sign up in Barefoot Basics. Jeni will be sending you a welcome email within a day of your registration, and will allow access on your profile for the next level course. At that time you can proceed in signing up for Anterior/Sidelying so that you can take it immediatly following your Barefoot Basics training if desired.
A 50% deposit is due upfront to reserve your spot in class, the remaning balance is not due until we meet in person, on the 1st day of training. Please see the Cancellation Policy section below.
---
| | |
| --- | --- |
| Training location and Hotel Accomodations | |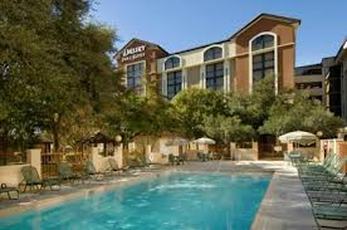 If you are looking for more space while you're in San Antonio, we are located just 5 minutes from the airport! There are many deals available online through websites like Hotels.com, AirBnB.com, and others that can help you find a great nights stay nearby.
The new San Antonio Training Location
for classes after February 2014
Heeling Sole Barefoot Massage & Yoga
1864 Nacogdoches, San Antonio (Alamo Heights) Texas, 78209
Click to read the NEW
SAN ANTONIO TRAVEL PACKET
---
| | |
| --- | --- |
| Accredited Provider for continuing education | |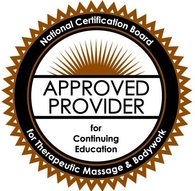 All courses offered by Jeni Spring at Heeling Sole meet Association of Bodywork & Massage Professionals (ABMP) and the American Massage Therapy Association (AMTA) eligibility requirements through Ashiatsu Oriental Bar Therapy's (Health & Bodyworks, AOBT, Ruthie Piper Hardee, Ashiatsu BarefootBar Group) affiliations. Our courses meet the high standards of the National Certification Board of Therapeutic Massage & Bodywork (NCBTMB) and we have been an NCBTMB approved provider since 1995. We adhere to professionally recognized codes of ethics and standards of practice with each of these organizations, and we are committed to continuing your professional education and development. Most state massage regulatory agencies recognize the same number of continuing education hours. Please contact our office if you have questions regarding whether or not your state has automatic reciprocity with the NCBTMB.

We are additionally approved for Arkansas, Florida (CE#50-5584), Mississippi (CE# 450728-08), Louisiana (CE#0074), Texas (#1378), New York (#283551-00) and all states who take automatic reciprocity with the NCBTMB. (Arizona, Connecticut, Delaware, Georgia, Iowa, Kentucky, Maryland, Missouri, Nevada, New Hampshire, New Jersey, New Mexico, New York, North Carolina, Oregon, South Carolina, South Dakota, Tennessee, Virginia, Washington, West Virginia).

AOBT's NCBTMB Continuing Education Provider #283551-00 Texas MTI #2235, Texas CE #1378,
Louisiana CE#0074, Mississippi CE# 450728-08 Florida CE#50-5584, New York #283551-00

---
By signing up for one of my classes, you agree to the Code of Ethics (see below) and the Cancellation Policy.


Non-Refundable deposits are required to hold your space in class. Your deposit will not be refunded should you cancel out of your selected workshop dates. Only in the event of proper documentation of injury, pregnancy, death in the immediate family, or weather prohibiting travel will your deposit be allowed to be rolled over to a workshop at a later date. This special consideration will be allowed one time only by the discretion of the Ashiatsu instructor.

If you have other circumstances besides those listed above, you may roll your tuition over to the next Ashiatsu course offered at a later date by Jeni Spring, by giving at least 15 days' notice and paying a $75 fee per class that you wish to roll over. Any notice less than 15 days is not eligible for rollover - unless the situation can be documented as mentioned above (injury, death in the immediate family, or weather prohibiting travel.)

Heeling Sole / Jeni Spring will happily refund all money for any cancelled seminars due to our responsibility - such as if the class minimum enrollment requirements are not met. We reserve the right to cancel class 2 weeks prior to the event should there not be enough interest and minimums not met – for Barefoot Basics, Anterior/Sidelying & Ashi-Thai classes in San Antonio, Class minimum is 4 students. For Advanced Ashiatsu in San Antonio, or for any class held outside of San Antonio, class minimum is 6 students.

If registration is low enough for the instructor to choose to cancel class, you will be notified 2 weeks prior to the scheduled dates. At such time, students can choose:
A) If they would like a 100% refund.
B) Roll your deposit over to the next listed class with no penalty

We do not recommend that you book airfare until you have confirmed with the instructor that your selected class has met the minimum enrollment requirements and will not be cancelled.

---
| | |
| --- | --- |
| Physical requirements to attend class | |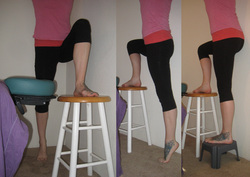 A higher than average fitness level will diminish any challenges you may experience during the workshop. You'll need a strong core, strong arms, as well as fluid and expressive hips for this work. The motion of your feet starts with your hips, the control of pressure comes from your arms and torso. Working slowly and gracefully is very important when leveraging your weight to do this deep tissue massage.
We ask that you are flexible enough to stand up & down from a 24 inch stool quickly and easily from the floor in one smooth movement. Another tricky move that is required: Sitting up onto a 29 inch stool and swinging your leg over the clients head smoothly and silently. You should also be able to sit on a stool with your knees close together in a cannon ball position. Be confident that your upper arm strength can pull your body weight off the client at any moment if needed.
Is there a weight limit? That's actually a common misunderstanding - there is no weight limit in our beginner level classes. Heavier students can easily be as fluid and graceful as those who are slim, but all must be flexible and strong. It is not our intention to discourage or discriminate anyone from taking this class, we must focus on a quality workshop experienced by all and maintain the safety standards of the modality. However, we do try to portray the amount of fitness that will eliminate some obstacles and make class more enjoyable for all therapists. If you have any reservations, please
contact me
to discuss your fitness level, you may be surprised that it's not as restrictive as you thought.
Additional physical strength requirements, weight limits and practical experience prerequisites are needed for the
Advanced Ashiatsu
class. Please read that page for more information.
Contraindications for therapists:
If you are currently pregnant, trying to get pregnant, have recently had breast/gluteal/calf implants and/or some select surgeries within the last 9 months, we regret that you
cannot attend the seminar.
Please
review these contraindications
that I uphold my clients to, and let me know if any apply to you.
Speak with me to clarify your specific situation and see why Ashiatsu training is or isn't appropriate for you at this time. The deep compression provided by this modality could be dangerous for those still recovering from invasive procedures or ailments, and is not safe for prenatal therapists or their growing babies to receive this style of work.
---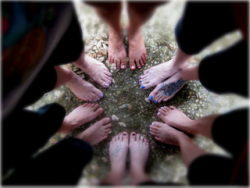 You'll get specific details on what to bring as soon as you register. (Check your Registration Packet to read more about that!) But here is the
general
idea of what you'll need to bring to Ashiatsu Class:
For each day of class you will need 1 top & bottom sheet, 1 face cradle cover, 1 wash cloth or kitchen sized towels, 1 king pillow, 1 blanket. (Linen rentals are available for $10/set)
Also, please bring the following:
•Clean Slippers or flip flops (other than the shoes you wear to class)
•Holster & your favorite lotion or creme
•Foot sanitizer & soft pedicured feet!
If stated by Jeni depending on location, you
may
need to bring a massage table & bar stool. We ask for portable massage tables that have a working weight capacity of at least 550 pounds. No Costco, Walmart, Aluminum/metal or self-made tables, please. If you are training in San Antonio, all massage tables and bar stools are provided for you.
Click to view the Registration Packet for your class:
Ashi-Thai

(info coming soon)

Advanced Ashiatsu

(info coming soon)
---
| | |
| --- | --- |
| Ashiatsu Bar construction, Installation & equipment | |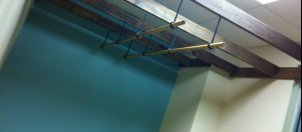 I will teach you in class e-v-e-r-y-t-h-i-n-g that you will need to know on how to build your overhead bar support, and I will also have our amazing Hardee Ashiatsu Portable Bar System available for you to see. Our design and development of safe and efficient bar construction, both permanent and portable, are unsurpassed.
Please DO NOT build your bars prior to class.
There are some specific measurements and safety guidelines that go along with using the bars that we will discuss together. For liability reasons I cannot provide this information before class. Many massage therapists have had to completely re-build their bars after taking our courses because they jumped the gun and installed them before hand. Save yourself time, money and stress… just wait! I'll show you how when we meet.
Equipment standards are a large part of the safety involved with our technique. Training centers are equipped with Earthlite's "Spirit" massage tables and "Flex-rest" face cradle platforms, which have a 800 pound working weight capacity and offer the utmost padding for comfort. Strong enough to hold you, your client, and the movement created during the protocol, comfy enough to fall asleep.
The overhead bar apparatus in class are built to commercial grade code, and support well over 1000 pounds in weight - even though we don't dangle from the bars like monkeys, it's very nice to know that our rigging is strong and can hold us up if the entire class decides to do a pull up on their bars!
We'll teach you in class how to build safe and sturdy bars for your own use, and we'll discuss the many makes and models of massage tables appropriate for using during a session.
Discounts on Earthlite products available for graduates of our program.
If you have questions about the portable bars, we also discuss that in class! You can read more about the portable bars
here
. Used portable bars are available to graduates as they become available.
---
| | |
| --- | --- |
| Certification after Training | |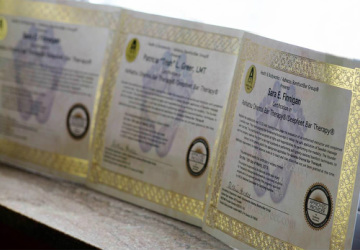 Certification in Ashiatsu and Ashi-Thai is not automatic. A "Completion of Hours Certificate" is issued at the end of any workshop attended. This proves you have completed the credit hours and is used for your professional association and license renewals.
After training, your own self-study Certification process begins with documented 20 practical sessions and testing based on the information provided in class. Certification is only granted after submitted materials are reviewed and approved
by our founder, Ruthie Hardee.
Being "certified" in Ashiatsu DeepFeet Bar Therapy® and using the name as such is a sign of distinction and expertise in the massage therapy field, giving automatic recognition of security and professionalism to the public. This certification status allows the therapist to truthfully advertise and market their skills as a certified practitioner of the original trademarked technique, and allows coverage by their professional liability insurance while providing the protocols learned in class. Certification verifies that the individual has studied with DeepFeet, the pioneering source of BarefootBar massage, and also gives the therapist access to list on our
national Ashi-locator service
to help build their practice.
There are 3 levels of Certification available: "Ashiatsu" available after Barefoot Basics training, "Ashi-Thai" after Ashi-Thai training, and "Advanced Ashiatsu" after DF2:Advanced Ashiatsu training.
---
All graduates of our program are held to a high ethical standard and must agree and adhere to this Code of Ethics. The information and materials presented in class are not to be shared or taught without proper Instructor training from our company, or permission from our founder.

---
| | |
| --- | --- |
| All Inclusive back-to-Back training | |
For clarification, all instructors associated with DeepFeet are no longer offering the All-Inclusive AKA All-Extensive workshops with
Barefoot Basics
,
Anterior/Sidelying
and
Advanced Ashiatsu
all together, back to back. We feel that it is crucial for the massage therapist to be experienced and fluent in the basic level of Ashiatsu prior to attempting the difficult maneuvers that are applied with the Advanced level of training. The retention of this material and safe, skillful application of the technique is very important to our modality, and learning everything at once does not consistently lend itself to the most effective use or deep understanding of this work.
I have never offered All-Inclusives in Texas, so this new policy change does not affect us as much. I have always said that a good Ashiatsu therapist isn't someone who has taken every class, it's not the person who gets to the "Mastery Level" first... a good Ashiatsu therapist is one who knows the material inside and out, uses it wisely and appropriately, and works their way through the progression of classes overtime while honing their craft.
I recommend that you start with Barefoot Basics training ASAP, then add on the Anterior/Sidelying class immediately, or very soon after. Begin working on your Ashiatsu Certification (see above) after graduating Barefoot Basics. Three-four months after completing those classes is a great time to attend Ashi-Thai and start working towards your Ashi-Thai Certification. You are eligible to attend the Advanced Ashiatsu class 6 months after your Barefoot Basics training,
(see other prerequisites on the Advanced Ashi page)
with a recommended schedule of at least 6 full Ashiatsu sessions provided to your clientele weekly. Upon successful completion of your advanced training, you can begin the Advanced Ashiatsu Certification. The entire training series could still be completed within 7 months, including time for the Certification process.
---
| | |
| --- | --- |
| Graduate Services For existing Ashiatsu Therapists | |
Helpful
graduate services
and a community of barefoot massage therapists are available for ongoing career support beyond your training. To supplement and deepen your understanding of the technique we offer
intermediate
and
advanced
level classes, private tutoring,
refresher trainings
and instructional DVD's for our graduates. We love our Ashiatsu family of therapists, and can't wait to meet you and your feet!
---
A "foot Note" letter from Jeni, your instructor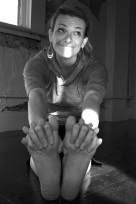 If you don't know me already, you'll probably get to know me real well, real quick!

I'm blessed to have been hand-picked and trained by the founder and lead instructors of Ashiatsu DeepFeet Bar Therapy, and I'm happy to be Texas' source for BarefootBar Massage training.

You can be sure that my classes are fun, informative, safe, and consistent with the curriculum of the modality - so the same course that our founder Ruthie Hardee is teaching in Denver is available right here in Texas with me.

My professional massage practice has grown leaps and bounds with the success of Ashiatsu, which is what led me to become an instructor - I really feel that this work can help us as therapists just as much as it helps those we massage!
---
---
Be sure to read the full course descriptions to learn even more about what Jeni's classes have to offer!