Important info for future heelers!
---
What is Ashiatsu?!
If you are on this page, you at least have an idea of what Ashiatsu Barefoot Massage is - but there's more to it than you think! When choosing your continuing education, researching your choices is important. If you are looking for a "save your hands" deep tissue style technique, this is it!
​
We are redesigning our website - so please stay tuned to this page for information on the processes and experiences that training in Texas with Jeni will provide!
---
Training location and Hotel Accommodations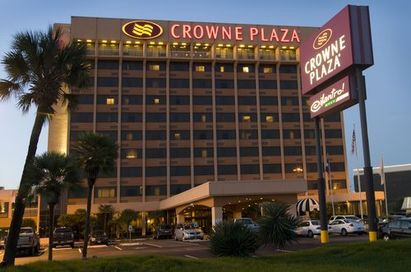 We are located just 5 minutes from the airport, walking distance to a grocery store, burger joint (with vegetarian options!) sandwich & coffee shops, and a Mexican restaurant! There are many lodging deals available online through websites like Hotels.com, AirBnB.com, and others that can help you find a great nights stay nearby.
​
Our Fave hotel?
"Crowne Plaza San Antonio Airport"
1111 NE Loop 410, San Antonio, Texas 78209.
CLICK HERE FOR THE DISCOUNTED DEAL
(FREE shuttle if you stay at the Crowne Plaza hotel)
Want to stay on the famous Riverwalk downtown? It's about 15 minutes away by car or Uber, and I recommend El Tropicano - that's my fave hotel.
Where exactly are the classes located?!

The new

San Antonio Training S

tudio

@ Heeling Sole Barefoot Massage & Yoga

1864 Nacogdoches, San Antonio (Alamo Heights) Texas, 78209

In the Carousel Court shopping center

Click to read the NEW

SAN ANTONIO TRAVEL PACKET
Interested in Training at YOUR location?
It's tricky, but with proper planning it can be done. It is a logistical challenge to provide the necessary equipment and create the educational environment needed to conduct onsite training, so tuition prices do raise per person, per class in these situations. If you have 6-8 LMT's in your area interested in taking our courses, and have a space no smaller than 600 square feet to host the class in, then please
contact Jeni
to begin coordinating the details. Sometimes, seasonally our calendar is booked 6-9 months in advance, so
in many cases it is more cost effective and quicker to train here in San Antonio.
---
---
Cancellation Policy
By signing up for one of my classes, your deposit serves as a commitment to train, that you agree to the Code of Ethics (see below) and the Cancellation Policy.


Non-Refundable deposits are required to hold your space in class. Your deposit will not be refunded should you cancel out of your selected workshop dates. Only in the event of proper documentation of injury, pregnancy, death in the immediate family, or extreme weather prohibiting travel (airports and highways closed) will your deposit be allowed to be rolled over to a workshop at a later date. This special consideration will be allowed one time only by the discretion of the Ashiatsu instructor.

If you have other circumstances besides those listed above, you may roll your tuition over to the next Ashiatsu course offered at a later date by Jeni Spring, by giving at least 15 days' notice and paying a $75 fee per class that you wish to roll over. Any notice less than 15 days is not eligible for rollover - unless the situation can be documented as mentioned above (injury, death in the immediate family, or weather prohibiting travel.)

There are absolutely no refunds for courses attended.
​
Heeling Sole / Jeni Spring will happily refund all money for any cancelled seminars due to our responsibility - such as if the class minimum enrollment requirements are not met. We reserve the right to cancel class 2 weeks prior to the event should there not be enough interest and minimums not met – Class minimum is 4 students. For any class held outside of San Antonio, class minimum is 6 students.

If registration is low enough for the instructor to choose to cancel class, you will be notified by phone 2 weeks prior to the scheduled dates. At such time, students can choose:
A) If they would like a 100% refund.
B) Roll your deposit over to the next listed class with no penalty

We do not recommend that you book airfare until you have confirmed with the instructor that your selected class has met the minimum enrollment requirements and will not be cancelled.
---
---
What to bring to class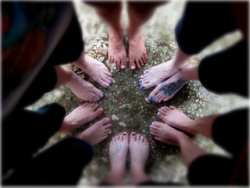 In general, for each day of class you will need: 1 top & bottom sheet, 1 face cradle cover, 1 wash cloth or kitchen sized towels, 1 king pillow, 1 blanket. (Linen rentals are available for $10/set)
Also, please bring the following:
•Clean flip flops (other than the shoes you wear to class)
•Holster & your favorite lotion or creme
•Foot sanitizer & soft pedicured feet!

If stated by Jeni depending on location, you may need to bring a massage table & bar stool. This is only required if you weigh over 200 pounds, or if we hold an off-site class. We ask for portable massage tables that have a working weight capacity of at least 550 pounds. No Costco, Walmart, Aluminum/metal or self-made tables, please. If you are training in San Antonio, all massage tables and bar stools are provided for you!
---
Ashiatsu Bar construction, Installation & equipment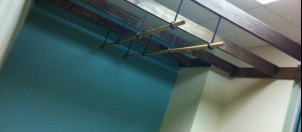 I will teach you in class e-v-e-r-y-t-h-i-n-g that you will need to know on how to build your overhead bar support. Please DO NOT build your bars prior to class. There are some specific measurements and safety guidelines that go along with using the bars that we will discuss together. For liability reasons I cannot provide this information before class. Many massage therapists have had to completely re-build their bars after taking our courses because they jumped the gun and installed them before hand. Save yourself time, money and stress… just wait! I'll show you how when we meet.

Equipment standards are a large part of the safety involved with our technique. Training centers are equipped with Earthlite's "Spirit" massage tables and "Flex-rest" face cradle platforms, which have a 800 pound working weight capacity and offer the utmost padding for comfort. Strong enough to hold you, your client, and the movement created during the protocol, comfy enough to fall asleep.

The overhead bar apparatus in class are built to commercial grade code, and support well over 1000 pounds in weight - even though we don't dangle from the bars like monkeys, it's very nice to know that our rigging is strong and can hold us up if the entire class decides to do a pull up on their bars!

We'll teach you in class how to build safe and sturdy bars for your own use, and we'll discuss the many makes and models of massage tables appropriate for using during a session. Discounts on Earthlite products available - please email Jeni.

---
A "foot Note" letter from Jeni, your instructor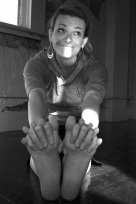 If you don't know me already, you'll probably get to know me real well, real quick!
(You can click here to learn more)
I'm blessed to have been hand-picked and trained by the founder and lead instructors of Ashiatsu DeepFeet Bar Therapy, my time with them from 2008-2017 was amazing. I'm excited and proud to bring a new era of this style of massage to the profession, and I'm happy to be Texas' source for Barefoot Massage training. I've been teaching Ashiatsu since 2008, practicing the work diligently since 2002, in love and addicted to it's benefits all along. My business, Heeling Sole, has grown to be the only multi-therapist clinic in the nation that ONLY offers barefoot massage services, training and internships, and I am extremely proud, happy and excited to be such a huge part of the emerging feild of barefoot massage therapy. I'm so proud of all my new massage colleagues out there who've enriched my classroom with their presence, and are now exploring the world of barefoot massage because of how this amazing modality has helped them tune into their feet! I learn from attendees to my classes as much as I hope they are learning from me, teaching this work has been an amazing journey.
My professional massage practice has grown leaps and bounds with the success of Ashiatsu, which is what led me to become an instructor - I really feel that this work can help us as therapists just as much as it helps those we massage! I encourage you to feel a session from my own highly trained staff of Barefoot Massage specialists at Heeling Sole in San Antonio. I always say that "Ashiatsu is the new black: because once you go Ashi, you don't go back!"
---